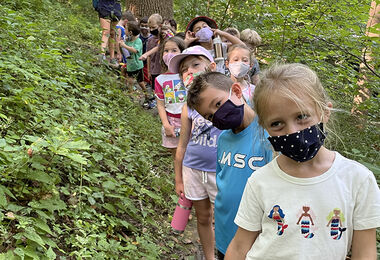 Join us here at Riverbend to Learn all about the Summer Camp experience!
Are you new to Riverbend and our Summer Camp?
Hiking, stream-stomping and bug-catching are a few of the key ingredients that have made Riverbend's summer camp a sensation for more than three decades. Riverbend campers aren't afraid to get a little dirty in our weekly program that runs from mid-June to Labor Day.
Come to our Open House event to learn all about this fun and nature-filled experience for your camper.
Meet our staff and talk to other camp families
Explore the grounds and facilities here at Riverbend - and meet our animal ambassadors
Learn more about our weekly themes and our Counselor-In-Training (CIT) program for older campers
Looking for a seasonal position with our camp? We'll be happy to meet with interested candidates.
This event is FREE. Please RSVP below.