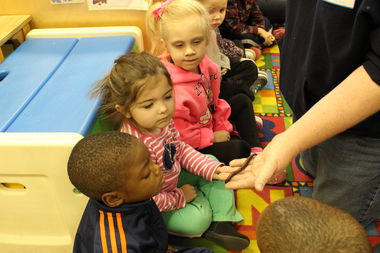 Program Visits
One-time visit: 45 minutes
Programs for up to 30 children.  Perfect for schools, libraries or camps.  May be reserved as a one-time visit, series or coupled with a Riverbend field trip.
Themes:
Terrific Turtles

Where should turtles be- on land, by the river, or in the sea? Read a story and learn all about different turtle species and the ways in which they are suited to their environments.

Recommended for grades PreK-1

From Eggs to Legs 
          Learn all about the life cycles of frogs and how they transform each year from egg to              tadpole, frog let and adult frog.
         PA Academic Standards: 3.1, 3.2, 4.1, 4.2, 4.3
Animal Classification

Learn to tell the difference between birds, mammals, reptiles, and amphibians by observing their physical characteristics.

PA Academic Standards: 3.1, 3.2, 4.1, 4.2, 4.3

Insect Exploration

What makes an insect an insect? Investigate these amazing invertebrates and learn about the important role they play in ecosystem health.

PA Academic Standards: 3.1 and 4.1
Events & Festivals
Bring your event to life with Riverbend.  Our traveling naturalists will visit your festival or event with a nature-based, hands-on activity.  Your guests will meet live animals, explore decomposer bins, try out a field scope or learn how to find nature in their own neighborhood.
Program time: 2 hours
Activities and live animal visits are dependent upon weather.  Contact us for pricing.