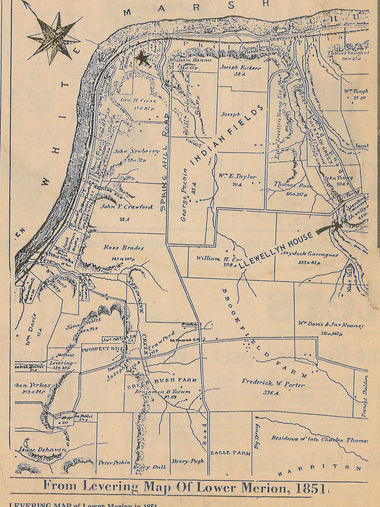 Riverbend and its surroundings have a rich and varied history.  In the 16th and 17th centuries, the site was used by the Lenape Native Americans, belonging to a confederation of the Algonquin Nation.  Known as the Unami Tribe, these Lenape established their summer station in the bend of the Schuylkill River that gives Riverbend its name.  The last written record of Native American activity in Riverbend's vicinity was an encampment at Black Rocks in 1740.  
The 1682 William Penn land grant of 5,000 acres to British settler Joshua Holland included the land that became Riverbend. When clearing new land for agriculture, it was common practice for farmers to remove large stones from the ground as they prepared for planting, and these stones were often used to construct walls. Walls like this are still found at Riverbend and at many of the surrounding properties.
The property on which Riverbend sits was eventually transferred to Welsh Quaker Morris Llewellyn, Sr., a farmer with substantial land holdings. At this time, the land was known as "Indian Fields."  The names given to what is now Bryn Mawr, Gladwyne, and Bala Cynwyd reflect Welsh influence during this period. At this time, Spring Mill Road led to a ford and later to a ferry crossing the Schuylkill River. This served as a transport connection to Spring Mill Road on the Conshohocken side of the river.  Although remnants of the old road are still visible on Riverbend's property, access to the river was cut off by the construction of the Schuylkill Expressway in the 1950s.
In 1864, the Union Army leased land from farmers on the south side of Spring Mill Road to establish Camp Discharge. This camp housed Union soldiers released from Confederate prison camps before they returned to civilian life. A sentry house from Camp Discharge still stands near Riverbend's entrance.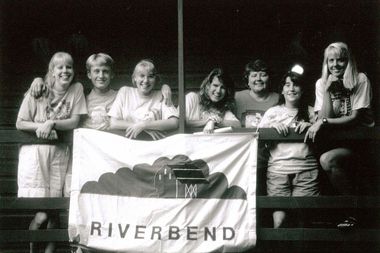 In the post-Civil War era of America's Industrial Revolution, the land surrounding Riverbend caught the eye of Conshohocken's leading steel and iron manufacturer, Alan Wood, Jr. Wood's 300 acres known as Woodmont Farms came to include the fantastic Woodmont Estate.  In 1884, Howard Wood, the younger brother of Alan Wood, Jr., acquired the adjacent 92-acre farm that included Camp Discharge. He later added nearly 400 acres, including the future site of Riverbend.
In December of 1974, Howard's grandchildren, Alice Grey Wood Read, Phoebe Wood Conger and Howard Wood III, fulfilled their desire to preserve some of the open space that defined so much of their family history. They set aside 26 acres in memory of their parents, thus creating Riverbend Refuge, soon to be a registered 501(c)(3) non-profit organization. The first environmental education programs began less than a year later in September, 1975. Four acres were later added to the original 26, creating the 30-acre preserve we now call Riverbend Environmental Education Center.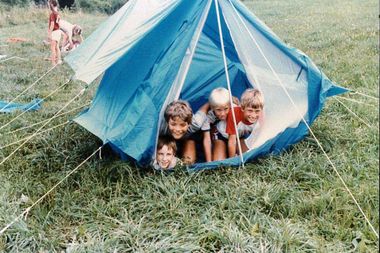 In the 1980's, Riverbend continued to grow structurally and programmatically. Riverbend Refuge was named Riverbend Environmental Education Center and classroom space was added to the barn. Our summer camp program was instituted and school field trip programs continued to expand. Program and funding diversification led to an increased need for office capability. From 1998 to 1999 our barn underwent a complete renovation, enabling Riverbend to better serve more children and families.
In 2004, Riverbend completed a Master Site Development Plan to guide site and habitat improvements. A momentous gift to help fund projects in this plan came from The Snider Family Foundation and changed the course of Riverbend's future. Thus, in 2005, Riverbend's signature building, a 1923 Sears Roebuck Catalogue Barn building was named The Snider Barn in recognition of Ed Snider's generosity.  Since that time, many significant facility and habitat-related improvements have been completed to enhance the preserve.
% Less water used in Aquaponics than traditional agriculture
Native species were planted since 2008
Hours spent outside by summer campers.