Riverbend's site is a multi-faceted gem located at the very end of Spring Mill Road. The preserve is named for the bend in the Schuylkill River, which defines the preserve's farthest border. Welcoming visitors near the entrance is a lovely tributary known as Saw Mill Run, a creek that entices young explorers and provides a refreshing respite during the hot summer months. Dotting Saw Mill Run is metamorphized schist consisting of gneiss stones and boulders. Steep topography throughout Riverbend adds to the site's beauty. Its diverse habitat includes meadows, woodland, and ponds inviting a wide range of nature study and exploration.
Open to the public daily from dawn to dusk, Riverbend welcomes visitors to walk the trails and explore the grounds. An essential function of the preserve is its use as an outdoor classroom for a wide range of on-site education programs. 
For a self-directed tour, you can download an interactive pdf of Riverbend's trail map.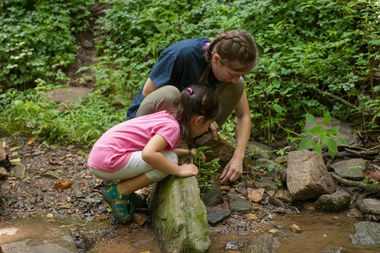 Amenities on the Preserve
Snider Barn
The iconic 1923 Sears Roebuck Catalog barn building serves as the hub of Riverbend's operations. Its public spaces host educational programs, nature camps, and other events. The barn houses a small animal collection and public restrooms.
The Snider Barn is availible to rent for events and family parties. Click here to learn more.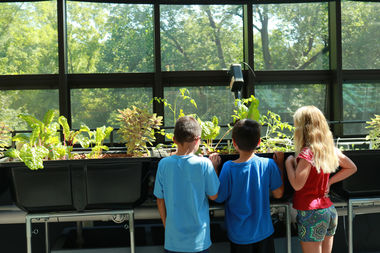 Aquaponics Greenhouse
An addition to the Snider Barn in 2015, this educational lab supports nature-based STEM and sustainable agiculture programs.
Aquaponics is an agricultural method that combines aquaculture (raising fish in a controlled environment) and hydroponics (growing plants without soil) in one integrated system. The fish waste provides an organic food source for the plants, and the plants naturally filter the water for the fish. Another essential participant in the closed-loop system is bacteria that converts the ammonia from the fish waste into nitrates, a form of nitrogen that plants need to grow.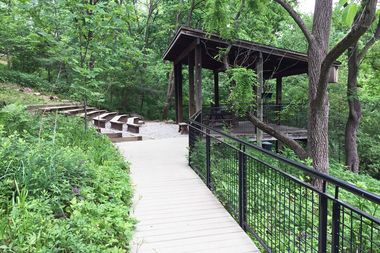 Charles Lieberman Outdoor Classroom  
A popular destination for education programs and community events, the area features tiered seating and a covered outdoor learning area overlooking the Alec Williamson Bird Observation Area.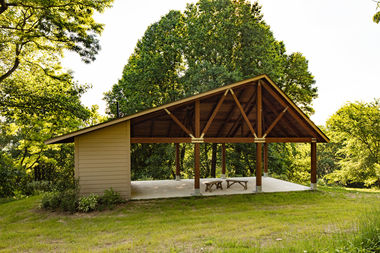 Nick & Dee Adams Pavilion
Riverbend's 400-square-foot pavilion features scenic views and eco-friendly elements, including solar panels, a composting toilet, and a native plant garden.
The pavilion provides valuable program space where Riverbend campers and school children fill water bottles and have a sheltered area for activities, protected from the elements. The pavilion offers an enhanced visitor experience, including use for family and signature events.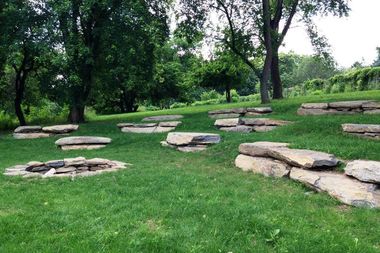 Stone Story Circle 
This area features large native boulders set into the hillside surrounding a large fire pit and views of the valley.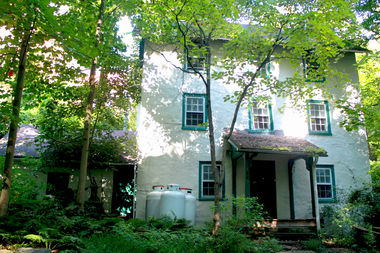 Farmhouse
Built between the Revolutionary War and Civil War, this original tenant cottage features a renovated first and second floor dedicated to programmatic use. The third floor has also been renovated to offer storage or living quarters for future use. 
Explore Riverbend's Natural Areas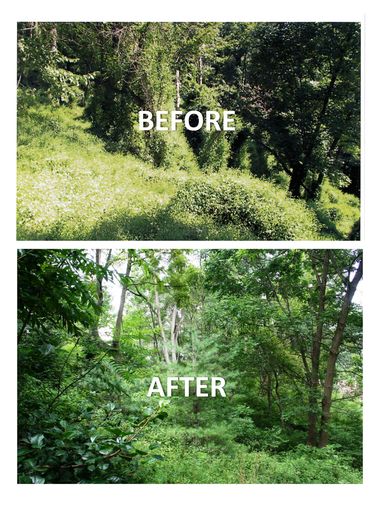 Woodland Restoration Efforts
How can we ensure our native Southeastern PA animal species have the food and shelter they need? We can restore our native habitat. Over many years, Riverbend's preserve degraded from white-tailed deer feasting on plant habitat. This degradation encouraged a blanket of exotic species to proliferate. In late 2008, Riverbend installed a deer exclosure fence and began to carry out an extensive woodland restoration project using TreeVitalize funding and the support of hundreds of volunteers each year. 
Since 2008, thousands of native trees and plants have been planted at Riverbend. A Riparian Forest Buffer Zone adjacent to Saw Mill Run is the focus of our ecological watershed restoration efforts. The buffer helps Riverbend reduce erosion and pollution in the stream, improves the site's ecology, and provides a demonstration area to explore successful integrated pest management strategies in a controlled location. 
Each year, Riverbend selects a new property area dominated by invasive vines and replaces them with native trees, shrubs, and herbaceous plants. 
Alec Williamson Bird Observation Area
Tucked into an area near the Snider Barn, the Alec Williamson Bird Observation Area is a garden-like sanctuary of more than 120 native trees, shrubs, herbaceous plants, and a pond. It was designed to provide ample food, shelter, and water for birds. With meandering trails and logs for resting, it is a lovely spot for bird watching and quiet reflection. It is also a popular activity hub for school programs and Riverbend's nature camps.
Did you know Riverbend is a birding hot spot, with 107 species reported in this area? 
This amount is four times the number registered before our habitat restoration efforts!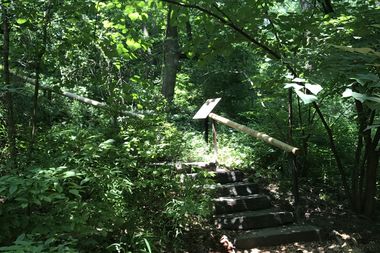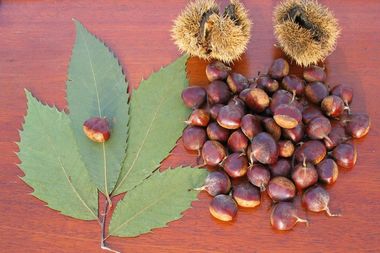 American Chestnut Grove
Established in 2016 and guided by the American Chestnut Foundation, Riverbend plays an active role in restoring the American chestnut tree. The American chestnut (Castanea dentate) is a large, monecious deciduous tree of the beech family. It is native to eastern North America and was once considered by many to be the most important species in the forests of the Eastern United States. In the early 1900s, a fungal blight caused the rapid, widespread destruction of an estimated four billion American chestnut trees. By 1940, most mature American chestnut trees were wiped out.
The primary approach to restoration is introducing genes for resistance to the fungus. This is accomplished by crossbreeding and backcrossing American chestnuts with the resistant Chinese species (Castanea mollissima) to produce a 15/16ths American tree. 
Through this method, the American Chestnut Foundation has created what is known as the restoration chestnut tree (B3F3). Growing new trees from the seeds of specimens that survived the epidemic is another essential element of the restoration process because it keeps the genetic stock of native trees alive for future research.