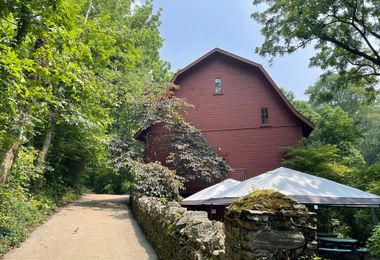 Due to Canadian wildfire smoke blowing our way, today's "Code Red" low air quality alert for all of Pennsylvania means that outdoor summer camps across the state have pivoted to indoor activities. Meteorologists tell us that recurring low air quality days will unfortunately be the new norm for much of the United States this summer.
At Riverbend, campers are playing inside today. I am working with our caring and dedicated staff to rapidly evolve our summer camp protocols to ensure camp continues outside as much as possible, and that indoor days are enriching and safe for growing lungs. 
At home, you can protect yourselves by closing windows and doors and wearing an N-95 mask outside. Young children should be indoors when the AQI is 150 or higher. We are using AirNow, operated by NASA and the EPA, as our data source.
It's normal to have conflicting feelings about what's happening, and about our need to quickly adapt. Riverbend encourages families to embrace the process of creating household and community resilience to changing weather. Riverbend can help with that.
How to Talk to your Kids about Climate Change
Review our popular post on this topic. Talking points are broken down by age group.
Do this First
Stay calm

Remember that there is a LOT we can do

Help yourself: secure your own oxygen mask first (literally)

Help your neighbors: ask people around you if they have working air conditioning, and lean on county services for support

Environmental justice: take action for minority groups in Philly and Pennsylvania 

Lower Merion Township is ahead of the curve. Read their Sustainability Plan here.

Plan to VOTE for candidates who have stated climate plans, grounded in scientific evidence
What can we do today?
Educate yourself

Influence others (conversations with your closest family and friends are more effective than social media posts)

Share this email with a friend

We are in this together: connect to your community to combat climate change

Don't lose hope: lone actions tend to spread. Individual action becomes collective action.
What can we do tomorrow?
Riverbend's beloved Barn is home base for summer camp. Riverbend is currently completing a feasibility study to upgrade the Barn's systems to achieve the highest possible air quality inside. Feasibility plan results are coming on July 20th. Families can evaluate their home to increase insulation, reduce energy consumption, and replace gas/oil furnaces with electric systems. PECO offers home assessments. Communities can write sustainability plans, like the one Lower Merion recently passed.
You and your loved ones can join our mailing list to stay informed. 
Riverbend is dedicated to connecting people to nature. We strive to be a trusted resource for adults who wish to protect the earth our children will inherit.