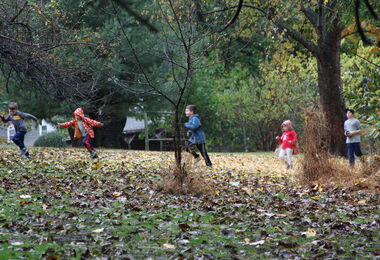 Need Supervision Support for your Virtual Learner?
School will look different this year. As students are released from the traditional classroom, we hope they can take a rare opportunity to spend more time in nature. Our hope is that every child has a place in nature that is safe and accessible to them. To support our families who are experiencing a new school format in virtual learning, we have created Riverbend's very first "Virtual Learning Center". This three week program will welcome students to our preserve to complete virtual learning in a safe and supervised environment. We will consider extending this program should schools continue to remain in a virtual format beyond October 2nd, 2020.
The Virtual Learning Center will operate from our 1923 Sears Roebuck Barn, fully equipped with WI-FI, and learning stations for each child to set up their own laptop or Chromebook. Students will be seated 6 ft. apart and will wear masks during times when they cannot socially distance. Just like summer, we will utilize every opportunity to get children outdoors. Highly skilled Environmental Educators will supervise your children, maintain their schedule and help troubleshoot challenges that arise. If your child is struggling with content or assignments, our educators will communicate that to you and your child's teachers.
In between virtual meetings and independent activities, students will explore Riverbend's preserve and participate in our traditional field trip activities. 
We have worked directly with medical experts and followed the advice and guidance of the CDC, American Camp Association (ACA), and local authorities to ensure the safest experience possible while still offering critical nature based learning experiences. Our procedures include enhanced health screening practices and protocols; enhanced cleaning procedures and policies; staff training and activities which promote virus mitigation and proper hygiene for students; and other procedures with the goal to provide positive and safe experiences for our students and staff. Click here for more info.
There are a few policies for registration that we would like you to know about:
Learning Center spots will be offered on a first come, first served basis.
We will offer this program to up to 14 students at a time, grades 1 - 4. We're sorry that we cannot offer learning support for younger or older students at this time.
We are offering this as a three week program. At this time, we are not offering part time registrations.
Learning Center fees must be paid in full at the time of registration. Registration will be $1,500 for the program which runs September 14th through October 2nd.
Learning Center will run from 8:30am – 4pm. No before or after care will be available.
Refunds will only be provided if Riverbend must cancel the program.
Our waiver has been updated. Please review it carefully at time of registration.
Please email Erin McCool or Julia Boyer at camps@riverbendeec.org with any questions.