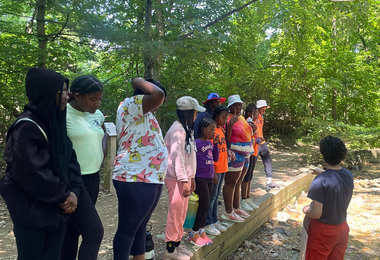 Riverbend is proud to have increased camp scholarships from two in 2022 to twenty-six in 2023! Thanks to a dozen generous families whose gifts allowed these children to benefit from a scholarship of 80% or more, we have worked together to increase access to free play in nature this summer. Riverbend is committed to fostering children's connection to their local environment and enriching education between school years, regardless of families' socioeconomic status.
Coming out of the pandemic, our renewed focus on camp scholarships is an outgrowth of the board and staff's fierce commitment to increasing equitable access to nature. You can read Riverbend's DEI Plan here. Furthermore, Riverbend recognizes the power of collaboration, and over the past year, we have strengthened existing partnerships and forged new ones. We are proud to have partnered with the Ardmore Avenue Community Center in collaboration with Bethel AME Church of Ardmore/Bethel Community Garden this summer to bring campers to The McKaig Nature Center to explore habitats (pictured). Working together, we can amplify our collective impact in addressing environmental challenges.

Would you like to help us further increase summer camp access in 2024? Consider making a gift here, and write "scholarship" in the comments.