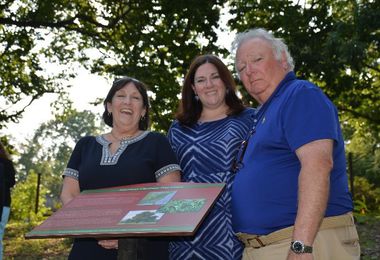 Leonard Keating of Villanova has had a lifelong interest in the American Chestnut Tree. The interest was passed on to him from his father and he is hoping to pass it on to his pre-kindergarten-age grandsons.

Now his interest is part of a larger project to save the blight-ravaged trees that were nearing extinction over the past century.

In nurturing that interest, Riverbend Environmental Education Center unveiled its new American Chestnut Tree grove from a donation Keating gave to honor his parents. In a formal ceremony Friday, June 17, Michelle and Leonard Keating Jr. donated the money for the new grove in memory of Leonard J. Keating and Lydia M. Keating.

Keating said his family got interested in the plight of the American Chestnut Tree because his father became interested in them .

"The chestnut blight hit in Pennsylvania about 1920 and throughout the Northeast it destroyed probably the primer tree in the forest of the eastern United States," Keating said as he stood beside his grandsons, Patrick, 2, and Nicholas, 4.

After speaking, Keating said he was going to talk his two grandsons who were Patrick and Nicholas and "tell them everything I know about chestnuts."

Mary Ayres, a Wynnewood resident and a board director of the Pennsylvania chapter of the American Chestnut Foundation, said the blight is still present and it's estimated that in another 600 to 1,000 years the tree would be extinct.

According to Ayres, the trees that are being planted at Riverbend are 15/16 American chestnut and 1/16 Chinese chestnut. "So it's a long effort and now there is genetic work being done and it's really advancing quickly," Ayres said. "But it's through efforts like this – you can't just plant a tree in one spot and expect it to spread through the eastern United States. You need orchards like this all over the Eastern United States to breed trees that will survive in particular environments."

The downside is that the efforts to save the trees will be a long effort. "It will probably take 300 to 500 years to reestablish a blight-resistant American Chestnut Tree where you walk through the forest in the eastern United States and you see it. But It's these kind of efforts that have gotten us this far and that will get us to that point 500 years from now," Ayres said.

Pointing toward Patrick and Nicholas, Ayers said they could see 70- to 80-foot blight resistant trees in their lifetimes.

Others agreed that Mother Nature takes time.

"I know you're looking at this and saying, 'Wow that's not this accomplished beautiful chestnut grove' – it takes time. Mother Nature takes time and we are going to be patient. So everything is going as it should and it will become a beautiful chestnut grove with time," said Riverbend executive director Laurie Bachman.