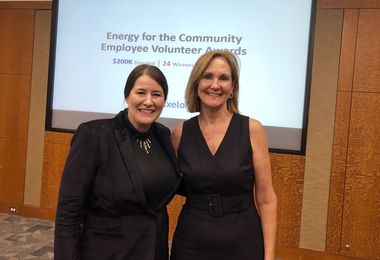 Riverbend Board Member, PECO/Exelon Employee Doreen Masalta Receives Prestigious Award $10,000 grant from Exelon to Benefit Non-Profit Mission
LOWER MERION TOWNSHIP, PA. On June 11 at PECO's Philadelphia headquarters, Riverbend Environmental Education Board Member and PECO Employee Doreen Masalta received a prestigious Exelon Energy for the Community award. One of just four top awards given out a year in this region by Exelon, the award recognized the Gladwyne resident for her exceptional volunteerism and community service at Riverbend.
As a result of Doreen's outstanding corporate citizenship, long-time partner PECO/Exelon awarded Riverbend a grant of $10,000 to go directly toward fulfillment of its environmental education mission. Exelon gives out a total of $200,000 to top volunteers based in facilities across the U.S. The three other awardees for this region were Natalie Dameshek for Penn State Hershey Children's Hospital, Monica Beistline for YWCA Tri-County Area, and Hiedi Sturm for The Maryland Zoon in Baltimore. Two additional merit award winners received awards of $5,000 each.
Doreen chairs Riverbend's property committee. In respect to her contributions in this area, Executive Director Laurie Bachman says, "this is a role in which Doreen's superior project management skills and prior experience in private tree contracting, utility line clearance and vegetation management have been invaluable. Doreen is an exemplary leader and problem solver as she guides us in improving our 30-acre Spring Mill Road Preserve, classic Sears Roebuck barn, and pre-Civil War farmhouse."  In addition to extensive contributions on the property committee, Doreen organizes habitat work days for her PECO team and co-chairs Shiverfest, Riverbend's largest special event for families.