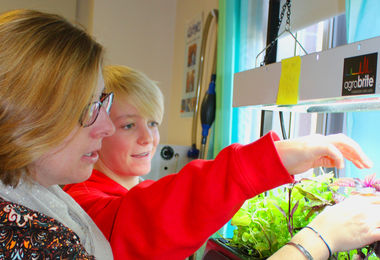 "Sometimes people say I love my job too much. I'm in early every day measuring the plants and even smelling them. If I fail at my job, it all fails!"
When Alex visited Riverbend a couple of years ago for his sister's Sweet 16 Birthday Party, he was intrigued by the aquaponics greenhouse and wanted to learn more. Later he was thrilled that he would actually get to BE an aquaponics farmer at Upper Merion Area Middle School. In 2015 Upper Merion Area Middle School adopted Riverbend's Building STEM Skills Through Aquaponics, an interactive curriculum that brings the challenge of growing healthy food for the future to life. The award-winning program engages students in critical thinking and encourages them to work collaboratively to address real-life challenges.   At Alex's school, the highly adaptable curriculum involves not just learning about science, but how to run a business.
Students form basil lemonade companies and within each company there is a CEO, production team, media group, farmers, and marketing team. Alex says he chose the role of farmer because he wanted to be connected with "the whole foundation of the project," adding "it is more hands-on being a farmer." He loves smelling the aquaponics plants, measuring them to check their growth and capturing what he calls "artsy" photos of them with his iPad. "All we put into the system are small amounts of organic food. Everything else takes care of itself through the nitrogen cycle. It's pretty awesome seeing how the cycle keeps going, but I do need to watch it. If I fail at my job, it all fails." 
Alex also likes the strong connection to the outside world. "I'm learning about larger-scale farming and the ways it adds to pollution.  I wonder why we don't do more things like aquaponics. Not everyone needs to do aquaponics, but people need to start caring more. I do feel that bigger problems in the environment can be solved. For the program, we had to calculate how many miles the ingredients we didn't grow traveled for shipment such the sugar from Ohio."
"It's the students who really carry this program. We're the ones who have to take the initiative and finish the job. If we see a problem, we have the freedom to change it. Teachers let us fail and learn from our mistakes."