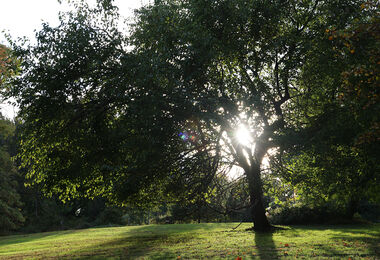 Dear Riverbend families,
Parenting in an era of climate change brings a special urgency to the task of connecting our children to nature. Luckily, something as simple as stepping into the woods with our kids — whether at Riverbend or your nearest green space—is a step towards saving the planet. That's because securing our children's future on earth begins with role modeling a love for Mother Nature. 
Riverbend is open and free to the public from dawn to dusk, seven days a week. Joyful activities you can do here to connect your child to mother nature include rock-stepping in the stream, exploring the trails, and verbalizing three simple statements as you traverse the outdoors: What do I notice? What do I wonder? What does it remind me of? Answer these questions out loud, and then ask your child to answer them, too. Try to get a conversation going. You may be surprised by where this takes you.
Saving the planet is a family affair. We can show our children what it looks like to take action in our homes and our communities. The easiest thing we can do is reduce, reuse and recycle in our homes. And the most impactful thing we can do is to vote. This 2022 election year will bring us the chance to pay attention to which candidates have a track record of green leadership in Pennsylvania. Voting is our best tool for addressing climate change.
We also hold influence within our workplaces and civic groups. Now is the time to make a commitment to advocate for more sustainable practices in every area of communal life. As parents, we have power–not just on earth day, but every day. This is the critical decade in which we still have time to make change. Riverbend will continue to provide resources on our Facebook page to support you as you parent through this era of climate change, and build a bright future for our children. We'll do it together.
Happy Earth Day,
Erin Reilly
Executive Director