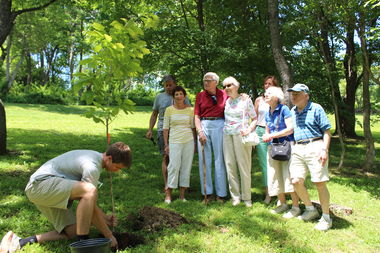 Friends of the Bend
It takes many people with a wide range of talents and resources to create a successful organization. In 2013, Riverbend established a society named Friends of the Bend. Friends of the Bend are those folks who have contributed for five or more consecutive years toward the Riverbend mission. For these friends, we create a certificate and plant a tree in honor –a white oak for those who have given for 20 years or more, an American holly for those who have given from 10 to 19 years, and an Eastern redbud for those who have given from 5 to 9 years. Riverbend's current Friends of the Bend appear in our fall newsletter and are honored each fall at our Red Barn Gathering.
Students participated in STEM-based Aquaponics program
Teacher trained in Nature-Based STEM
% Less water used in Aquaponics than traditional agriculture
Teachers trained in Aquaponics
Native species were planted since 2008
School program visits, 48% from underserved schools
Volunteers dedicated 2,205 hours of service.
Hours spent outside by summer campers.