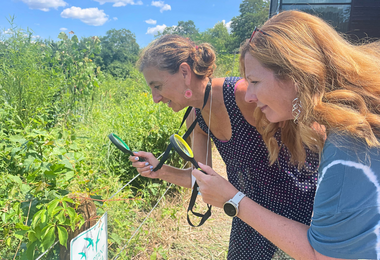 Classroom teachers know that hands-on projects conducted outdoors increase student's interest in science. To prepare students to address timely environmental issues and succeed in STEM-based careers, strong partnerships between informal (nonprofits) and formal (schools) education institutions are key. Last school year, Riverbend worked with 9 teachers enrolled in our year-long Community of Practice professional development program. This grant-funded initiative coached teachers on how to teach science curriculum outdoors. After only three days training with Riverbend at the program's 2022 kickoff event – our Summer Science Workshop – public school teachers were already reporting an increase of up to 70% in their confidence and knowledge of outdoor STEM instruction. 
Riverbend has been investing in classroom teachers as valued and respected partners in nature education for nearly a decade.
By the numbers:
This year, Community of Practice has doubled in teacher enrollment with 18 teachers enrolled in the 2023-2024 cohort. 

These teachers will teach an anticipated 1,265 students, more than tripling the reach of last year's cohort. 

100% of this year's teacher participants work at federally designated Title I schools in Norristown, Upper Darby, and Philadelphia.
Testimonials from teachers:
"It was so helpful to have Riverbend educators to bounce ideas off of. Their expertise allowed for my professional development. It was helpful to hear from other teachers in the region; their ideas were an inspiration." - Ann Marie McDonald, 4th grade teacher in Norristown Area School District

"Working with Julia Boyer from Riverbend was a pleasure. The students were very excited to see her and it was interesting to see how she approached the outdoor classroom." -  Kelly Koreck, 1st grade teacher at Keystone Academy Charter School

"Would 100% recommend to any teacher who asked!" - Melissa McCabe, 6th/7th grade STEM teacher in School District of Philadelphia
The year-long program culminates in a student-led Earth action project to synthesize outdoor lessons and develop problem solving skills in students' hyperlocal environment. In the 2022-2023 school year, Riverbend supported teachers in the implementation of several collaborative Earth action projects: 
reducing plastic litter by creating of reusable cloth bags

creating school field guides and interpretive signage

feeding birds by installing birdhouses

cultivating a native plant garden

constructing an absorptive garden to reduce runoff

planting flowers to support bees

compiling a tree inventory and encouraging school administration to plant native trees

organizing a trash collection on school grounds
New this year, students will take a fully subsidized field trip to Riverbend's preserve before four unique hands-on explorations in their own schoolyards to apply their inquiry skills in their campus environment. We look forward to welcoming them to our living laboratory next spring!