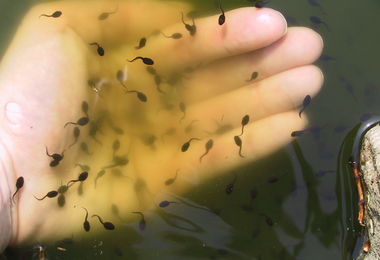 It's that exciting time of the year again when our ponds fill to the brim with squirming tadpoles!
Join Riverbend's Educators for this facinating annual rite of spring that happens each year here at Riverbend. Learn about the lifecycle of the amphibains that live at the Preserve and see the tadpoles in action. This fun event is open to individuals and to families with children of all ages. 
This is a Riverbend PAY WHAT YOU WISH Event:
The true cost to Riverbend to offer this educational event to the public is $10 per person. We recognize that for some families emerging from pandemic, this is unaffordable. Therefore, we invite you to choose the price you wish to pay for this event. In doing so, you help make environmental education accessible to ALL children, regardless of their family's financial situation.