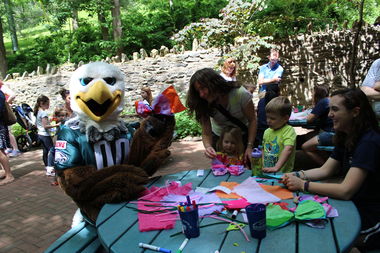 Your sponsorship gives children the joy of being in nature and provides hands-on, outdoor learning while investing in a 30-acre preserve, open to the public seven days a week. 
Riverbend is known as a trusted leader in environmental education. Since 1974, we've served thousands of children and their families in the greater Philadelphia region. Year-long partnerships and event sponsorships directly support environmental education programs for all ages.
This includes our inquiry-based science learning curriculum and our award-winning aquaponics program that lays a STEM foundation for school children. Riverbend has 35,000 program visits on and off site annually. These include 23,400 school student visits. Of these, 48% serve children from under-resourced communities.
Riverbend's event marketing goes to our e-mail list of 3,400+ and our website averages 91,000 page views annually.

Two major audiences for Riverbend are our young camp families and donors of all ages who reside in nearby Gladwyne, Bryn Mawr, Villanova, Penn Valley, Radnor, Wayne and other Mainline and Greater Philadelphia communities. 

Our signature Shiverfest event draws upwards of 700 participants and our creative Farm to Table gala draws 150-200.

We post on five social media platforms and have 1,700+ followers on Facebook alone! We're eager to feature YOU as a supporter.