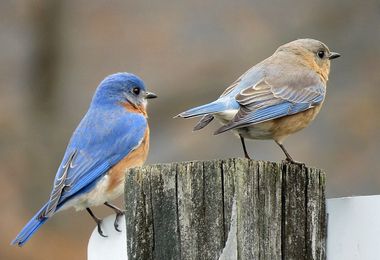 Bluebird numbers were once in decline but thanks to the efforts of conservation minded individuals and organizations their numbers have increased.  Unfortunately, some Bluebird lovers think they are doing a good deed by simply putting up a nest box in their back yard.  That is not the case and often can do more harm than good.   Join us for this informative session if you are interested in being a responsible Bluebird 'landlord' or just want to learn more about these charismatic and native cavity nesting birds.  
In this session we will cover the following:
Bluebirds 101 – What you should know about Bluebirds and other cavity nesters

Creating the right backyard habitat 

Choosing and setting up your Bluebird house

Understanding and mitigating threats

Volunteer opportunities
Join us to hear from our amazing guest, Krista Hixon.
Introducing the incredible Krista Hixon, a dedicated individual whose passion for nature and wildlife shines through her various roles. As the Board Director and Treasurer of Willows Park Preserve, Krista plays a crucial role in preserving and enhancing natural spaces. Her commitment extends to the Bluebird Society of Pennsylvania, where she serves as a proud member, and to the Philadelphia Metro Wildlife Center, where she generously volunteers her time.
Krista Hixon is not just a Board Director; she is a Bluebird Champion and Advocate, embodying a deep love for these fascinating creatures. Join us to gain insight into Krista's journey as she shares her experiences and expertise in the world of wildlife preservation. Get ready to be inspired by her unwavering dedication to environmental causes and her role in fostering a harmonious coexistence between humans and the natural world.
This event is intended for adult lifelong learners.