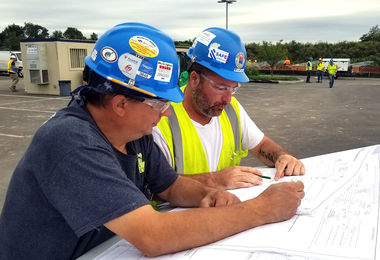 Riverbend is proud to have Riggs Distler & Company, Inc. as a year-long corporate partner.
Riggs Distler has been a Riverbend sponsor since 2018 offering an even greater level of support in 2019. With a focus on safety and a philosophy of putting people first as mainstays of their company culture, it is not surprising that they help mission-based organizations like Riverbend in our commitment to nature-based STEM education and preparation of tomorrow's environmental leaders.
Riggs Distler is one of the oldest and largest union mechanical, electrical and utility contractors the United States. For over 100 years they have successfully completed a wide range of projects ranging from the Empire State Building to the National Constitution Center. Employees perform utility, industrial and commercial electrical, matting and environmental construction, and mechanical service for Fortune 100 companies located in the United States. Typical projects include power generating plants, refineries, chemical facilities, steel mills, hospitals, educational facilities, substations, transmission, and distribution power lines, underground directional drilling, ROW construction and maintenance.
To learn more about their history and the services that they provide, please visit their website at: https://riggsdistler.com/