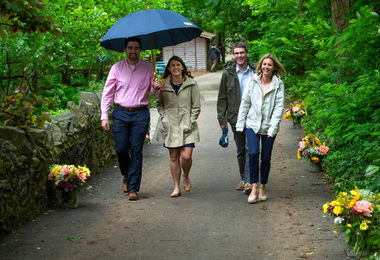 For Immediate Release
Riverbend Soiree a Success! Michael G. Haines honored and Daily Overview founder Ben Grant featured at the June 3rd Farm to Table: For Our Earth, Our Community, Our Children
Gladwyne, PA – Riverbend Environmental Education Center's 2018 Farm to Table event broke all records and exceeded expectations. Caring corporate and individual sponsors with their guests came together at the sold-out event to raise more than $100,000 in support of the Riverbend mission. The non-profit organization delivers 35,000 program visits annually, working to empower students through innovative programs such as its award-winning Building STEM Skill through Aquaponics program. They also invest deeply in equitable access for school students and teachers, including the Philadelphia Children Access Nature initiative highlighted that evening.
This year's event featured Ben Grant, founder of Daily Overview, a project that has gained international recognition. Through stunning images shared in digital media and in an acclaimed book titled Overview, Grant inspires us to see our Earth home in its entirety -- to reflect on its beauty and its fragility all at once. Honoree Michael G. Haines, owner of Waverly Custom Homes, is beloved in his home community of Lower Merion Township and has invested significantly in Riverbend's Spring Mill Road Preserve in Gladwyne.  He has served on Riverbend's board of directors for 12 years, currently as board vice chair and has helped lead Riverbend through a period of remarkable programmatic growth and preserve improvements. Executive Director Laurie Bachman says, "Michael's steadfast belief in improving the lives of youth through environmental education and his dedication to bringing others together to advance Riverbend goals have been invaluable."
Guests enjoyed garden-fresh beverages provided by 13th Street Cocktails, a Live Birds of Prey demonstration by TC Management of the Hudson River Valley, and abundant seasonal tastings from Catering by Design.