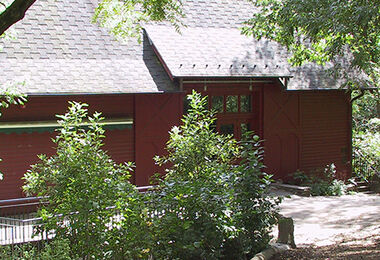 From David Copas, Chair, Board of Directors, Riverbend Environmental Education Center
It is with a mix of sadness and great gratitude that the Board of Directors announces Laurie Bachman's pending departure as Executive Director of Riverbend Environmental Education Center.
Since 2005, Laurie has been the heart and soul of Riverbend and integral part of the growth and success of the organization, and while we will greatly miss her and her incredible leadership, we wish her nothing but happiness and success as she begins the next chapter of her life.
We want to thank her for the fifteen years of dedicated service involving a list of significant accomplishments too numerous to count, including:
Stabilization of Riverbend's financial situation when she took the position in 2005, and her continued creative and thoughtful financial stewardship through the 2020-21 pandemic.
Significant capital improvements to our preserve in Gladwyne, including the renovation of the Snider Barn, rehabilitation of the farmhouse, and new construction of the Adams Pavilion, the Lieberman Outdoor Classroom and the Story Circle;
Significant restoration of the preserve's natural habitat;
Launching our award-winning aquaponics and nature-based STEM educational programs; and
Cultivation of a growing staff of talented and dedicated full-time employees.
In short, Laurie has left an indelible mark on Riverbend that will serve the organization for years to come.
To facilitate a smooth transition, Laurie will continue in her role as Executive Director until the earlier to occur of June 30, 2021 or the completion of onboarding of her successor.  She has also agreed to serve in a consultative capacity following her formal departure. 
It is our priority to maintain a stable, effective and successful organization. Within the next few weeks, we will share the job announcement for Laurie's successor and look forward to meeting exciting candidates who can help Riverbend continue along a continued successful trajectory and continue to meet the crucial educational needs of the communities we serve.  Our intent is to complete the selection process in the next few months so that our new Executive Director will have an opportunity to overlap with Laurie for purposes of knowledge transfer.
We cannot thank Laurie enough for the dedication, skill, passion, enthusiasm and motivation she has given Riverbend over the past fifteen years. She will be greatly missed by the staff, board, donors, customers and partners alike. We look forward to following the continued success of her career and are hopeful and excited to begin the next chapter of Riverbend's story.
If you have any questions or concerns during this transition process, please do not hesitate to reach out to me directly at dcopas_at_riverbendeec.org.
Sincerely,
David N. Copas, Jr., Chair, Board of Directors, Riverbend Environmental Education Center
From Laurie Bachman, Executive Director, Riverbend Environmental Education Center
Leading Riverbend for the past fifteen years has been such a privilege. Stepping away was a difficult decision, as I have genuine affection for the people, the place, and the mission.  I am very grateful to have been a part of the extraordinary growth of Riverbend, and I am proud of our collective accomplishments. The strong foundation we have built will support the next phase of Riverbend's evolution and ongoing success. Thank you for making this such a rewarding journey.