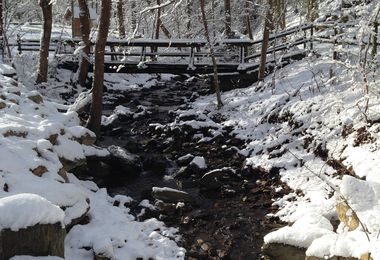 Enjoy the crisp winter air as a Riverbend staff member leads a hike through our preserve. Along the way, learn more about Riverbend's programs and upcoming projects while enjoying the field, forest and stream ecosystems on the grounds.
The hike will start at the Snider Barn – site of Riverbend's Aquaponics Greenhouse. Before setting out, they will briefly discuss Aquaponics and how it is used in Riverbend's nature-based STEM education programming. From there, the group will explore various areas around the preserve including the field, forest, pond, and stream ecosystems. On the hike, the group will search for signs of animal life, look for tracks, and learn about amazing winter adaptations. 
Well behaved, leashed dogs are welcome.
The winter trek series organized by Lower Merion Conservancy partners with Bridlewild Trails Association, the Henry Foundation for Botanical Research, Peace Palace Mission, and Riverbend Environmental Education Center to present a series of free hikes for adults and children ages 8 & up. Enjoy the company of friends during a brisk walk through the treasured fields and forests of Lower Merion!