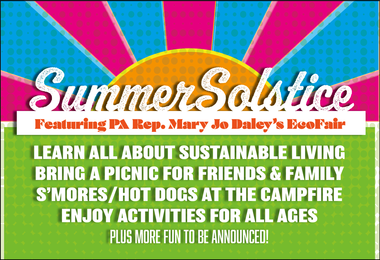 Celebrate the longest day of the year and the kickoff to summer!
Our Summer Solstice event is a fun evening which celebrates the longest day of the year with picnicking, a campfire, and kid focused activities. This year, families can also learn about the many ways that they can incorporate low-waste, sustainable living into their daily lives by meeting the great local businesses offering products and services to help. It's a great night to make connections and enjoy community at Riverbend.
We are currently seeking eco-friendly organizations and businesses to join us at the EcoFair portion of the event. Early deadline for vendor registration is Friday, May 5th. Please note: vendors cannot sell items at this event but are welcome to distribute promotional materials/samples.
If you are a local business or know one who would like to participate, click here to register (or share this link)
Questions? Please email Danielle Curley at dcurley@riverbendeec.org for more info.