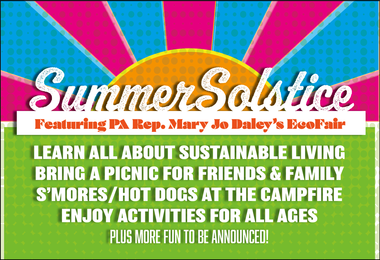 Celebrate the longest day of the year and the kickoff to summer!
Our Summer Solstice event is a fun evening which celebrates the longest day of the year with picnicking, a campfire, and kid focused activities. This year, families can also learn about the many ways that they can incorporate low-waste, sustainable living into their daily lives by meeting the great local businesses offering products and services to help. (See the list below.)
It's a great night to make connections and enjoy community at Riverbend.
Pond exploration! Marshmallow roasting! Crafts! Baby Goats! Live Music and much MORE!
This is a FREE Event:
This is a Riverbend Free Event, but the true cost to Riverbend to offer this educational event to the public is $45 per family. We recognize that for some families emerging from pandemic, this is unaffordable. Therefore, we are accepting voluntary donations to Riverbend Environmental Education Center in order to help make environmental education accessible to ALL children, regardless of their family's financial situation.
PLEASE NOTE: No dogs will be permitted at this event.
Learn more about sustainable living from these amazing providers and organizations at the EcoFair:
Aqua
Bird Town Pennsylvania
DCNR Bureau of Forestry
Laurel Hill
Lower Merion Carbon Pollution Reduction Initiative
Lower Merion Twp Environmental Advisory Council
Mom's Organic Market
Mother Compost
Natural Lands
PECO
PennEnvironment
Rabbit Recycling
RainaLuella
SavATree
SHIFT Sustainable Goods + Services
The Office of PA State Rep. Mary Jo Daley