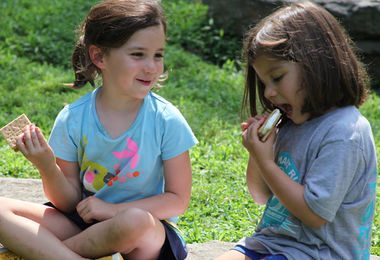 Camp-out Under the Stars at Riverbend
National S'mores Day is Monday, August 10th. Celebrate here at Riverbend. Enjoy a camp-out and s'mores with your family!
There is something special about Riverbend on summer evenings when fireflies light up our meadow at night. Bring your family and your camping gear to our overnight camp-out.
This camp-out is perfect for the first-time camper AND veteran campers alike.
Riverbend staff will help you set up your tent, build the campfire, and lead a night time program. We want this experience to be easy and fun for the whole family.  All that's needed on your end is a tent and sleeping bags.
This event is open to all families.
Activities
Camp fire for marshmallows/smores

Families are encouraged to bring their own marshmallows to roast. Each family receives a clean skewer that is disinfected afterwards.

Night hike and other activities.
Food
We recommend families eat dinner on their own before arrival.
Breakfast will not be provided and refrigeration is not available.
Health and Safety
Families will maintain distance of 6 ft.

Tent placement 6 ft apart.

Masks:

When less than 6' away (i.e. when helping to set up tents etc), staff and adult participants will wear masks.   
Kids are encouraged to wear masks indoors.
Riverbend will adhere to all state and local requirements for mask wearing and therefor these rules are subject to change.

Restrooms:

Staggered bathroom times will be provided at the end of the evening for brushing teeth, etc.
Composting toilet in the pavilion will be used for the middle of the night.
Bathrooms will be sprayed with disinfectant by staff after each use.
Cost: General Admission is $75/family (+ Processing fees)
Sorry, we must limit this event to the first 10 families who register.