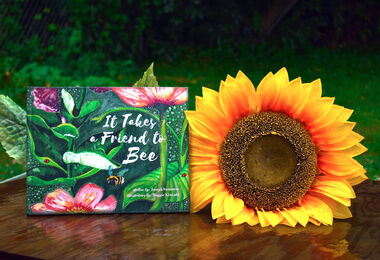 Join us as we welcome local author Joseph Summers and Illustrator Maggie Kincade to Riverbend to share their new book "It Takes a Friend to Bee." The authors will read their book, answer questions from the audience, and sign purchased copies. 
Learn more about Joseph, Maggie and their book by visiting their website: ittakesafriendtobee.com. 
After the book reading, Riverbend invites all families to enjoy some time on our preserve. Take a hike up Valley View Trail to warm up by the campfire where hot cocoa will be available to enjoy. Weather permitting. Please bring your own reusable cup to enjoy hot cocoa.
Registration is required as spaces are limited. This event is recommended for preschool through elementary school aged children. Please bring your own reusable cup to enjoy hot cocoa. Register at the button below.
Story Time with Maggie and Joseph is a Riverbend PAY WHAT YOU WISH Event:
The true cost to Riverbend to offer this educational event to the public is $25 per family. We recognize that for some families, this is unaffordable. Therefore, we invite you to choose the price you wish to pay for this event. In doing so, you help make environmental education accessible to ALL children, regardless of their family's financial situation.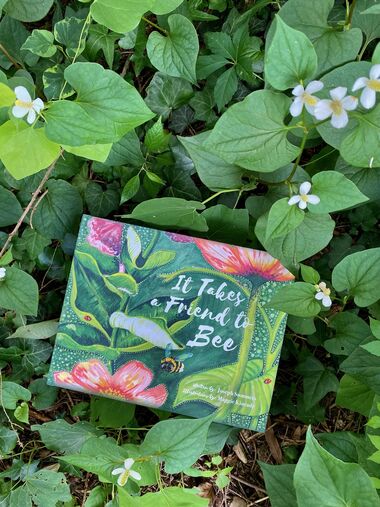 EVENT ADD-ON OPPORTUNITIES:
Painting Workshop with illustrator Maggie Kincade at 2pm
Riverbend is pleased to offer an exciting opportunity to learn directly from artist Maggie Kincade who created the beautiful illustrations in "It Takes a Friend to Bee." Beginning around 2pm, registered participants will paint a scene from the book with step-by-step instructions from Maggie. The required age for this activity is Kindergarten through 4th grade. All supplies will be provided. Participants are encouraged to bring an art smock or paint shirt to wear. The painting workshop will last between 30 and 45 minutes.
Please register below to participate in the workshop. Participation is limited to 15 children ages 5 - 10.
Registration for Painting Workshop - $15
Copies of the book will also be available for purchase during the event. Books will be sold by the authors for $20 each. 5% of book sales are being donated to Bee Conservation efforts. 
Prepurchase "It Takes a Friend to BEE" - $20
COMBO: Register for Painting Workshop and a signed copy of "It Takes a Friend to Bee" - $30