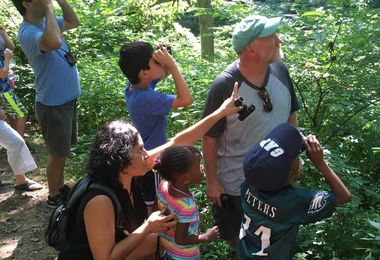 Are you interested in bird watching but not sure where to start? Join Riverbend and the Valley Forge Audubon Society for this birding 101 class and catch the birding fever!  
We will teach you how to use binoculars, what field guide to choose,
what clothing to wear, and share some tips and tricks for identifying our local birds. Experienced birders are welcome to join and pair off. We'll even have light refreshments to fuel our birding!
Walks are open to all ages and levels and are held at Riverbend Environmental Education Center located at 1950 Spring Mill Road, Gladwyne, PA 19035. Donations welcome.
Register your party at info@riverbendeec.org.  
Important Note: For all walks, be sure to dress for the weather and bring binoculars. A limited number of binoculars will be available for shared use.